Mnichovo Hradiště
---

Státní zámek Mnichovo Hradiště, 295 01 Mnichovo Hradiště
Tel. +420 326 773 098, e-mail: mhradiste@stc.npu.cz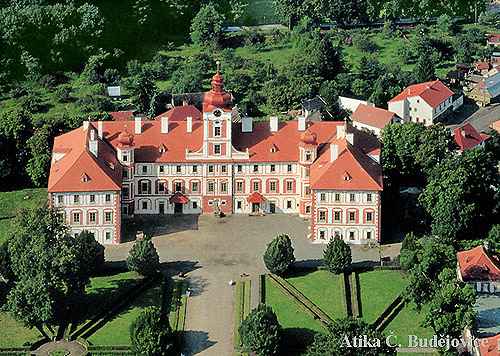 &nbsp&nbsp The Renaissance manor, built by the prominent Czech aristocrat, Václav Budovec of Budov, came into the hands of Albrecht of Valdštejn after 1620. At the turn of the 18th century Arnošt Josef of Valdštejn ordered the manor be rebuilt into the true Baroque style, and it has remained in such a style ever since.
&nbsp&nbsp Today, the original period interiors that are publicly accessible are fitted with mostly Baroque and Rococo furniture. The windows and doors, set off with distinct framing, complete the pleasant impression emitted by the rooms. Of the manor collections, the delft faience most stands out, displayed on the walls and furniture of the sumptuously furnished room, additionally decorated with a fine wooden ceiling and sculptured ornaments in the wall parget. The manor library is rich as well.
&nbsp&nbsp Another place of interest in Mnichovo Hradiště is the lapidary of several dozen statues from the 18th and 19th century in the former Capuchin church and chapel of Saint Ann with the tomb of Albrecht from Waldstein.