Pražský hrad
---

Správa Pražského hradu, Pražský hrad, 119 08 Praha 1
Tel. +420 224 372 222, +420 224 373 368.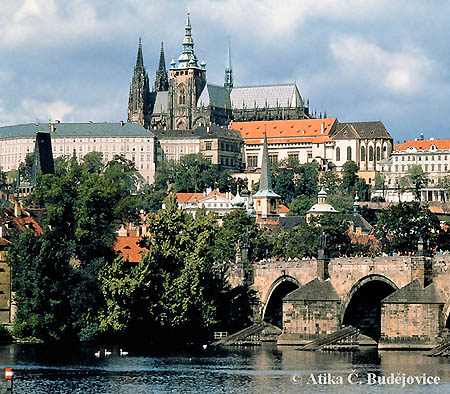 &nbsp&nbsp The beginnings of the history of the Prague Castle go down to the middle of the 9th century when it became the residence of the family of Přemysl. By the beginning of the 14th century a number of palaces of the ruling dukes and later Czech kings grew out in the area of the Castle, as well as the palaces of the bishops and sacral buildings, all this protected by a mighty fortification. In 1344 the king Charles IV laid the cornerstone of the cathedral of St. Vith and called the French architect Mathias from Arras for its construction and the young Peter Parléř after Mathias' death in 1356. After the damage during the Hussite wars the Prague Castle rose to a new glory during the reign of Vladislav Jagellonský who built the vast Vladislav's Hall (62x16 meters) with a wonderful vault before 1493 (the architect Benedikt Ried), the first building with Renaissance elements in Bohemia. The Castle experienced another period of blossom during the reign of the emperor Rudolf II. During 1753 to 1775 the Prague Castle was rebuilt by the decision of Maria Theresia, according to the project of the architect Niccolo Pacassi from the court in Vienna. The work was directed by the constructor Anselmo Lurago with Antonín Kunz and by Antonín Haffenecker since 1765. At present the historical objects of the Prague Castle are under the administration of the Office of the President of the Republic.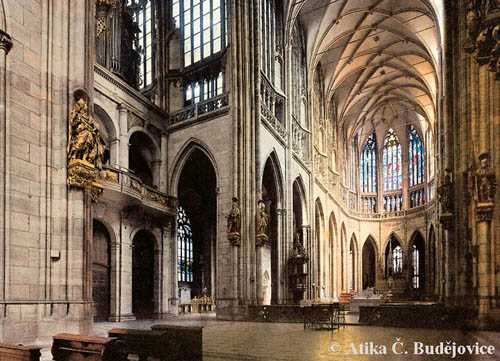 The dominant of the Prague Castle is the already mentioned church of St. Vith, successor of a rotunda of the same name established around 925 by the Duke Wenceslaus, later saint and chief patron saint of the kingdom. The iconographic program of the cathedral which is at present the most visited building in Bohemia was formulated probably by Charles IV himself. The idea to follow the legacy of the family of Přemysl was expressed by carrying over the bodies of the Přemysl dukes and kings to the choir of the cathedral. The construction of this monumental cathedral was interrupted by the Hussite wars and certainly nobody had any idea that the completion of the construction would be postponed for the whole next centuries so that the cathedral was not ultimately completed and consecrated until the time of the millennium of St. Wenceslaus, i.e. in 1929. During the long time of its development the cathedral became a symbol of both spiritual and material identity of the Czech nation since there are the old symbols of the Czech state, culture and history hidden in its walls.